News
New sales team member
June 2020
We are pleased to announce the addition of a new Sales Manager to our team at Lodige Process Technology in Florence, Mr. Rainer Siepmann. Rainer has extensive sales and marketing experience in domestic and international industrial and pharmaceutical areas. He will be based in the home office in  Florence, KY.  Rainer, originally born in Duisburg, Germany now resides in Milford, Ohio (Greater Cincinnati area).
Expansion of sales representatives: The Kahl Company, Process Controls Corp
June 2020
We are extremely pleased to announce two new sales representatives for Lodige in the USA. Their responsibility with Lodige Process Technology falls within the Mixing and Reacting markets for the Mid-Atlantic and Midwestern states. They are:
The Kahl Company – Mid Atlantic states
www.kahlco.com
Based in Wilmington DE, The Kahl Company is a manufacturer's representative sales organization since 1966, focusing on industrial process, pollution control equipment and process optimization.  Representing premium engineered product companies that have been carefully selected for presentation to their customers. Kaul only presents world-class companies that provide unique products and solutions for rigorous industrial applications. Lodige fits very well with their product line card.
Process Controls Corp – Midwestern states
www.processcontrolscorp.com
Based in Indianapolis, IN, Process Controls Corporation has been serving the Midwest, specifically Indiana, Ohio, and Kentucky since 1971. Having four locations: Louisville, Kentucky; Cincinnati and Cleveland, Ohio; and Indianapolis, Indiana; Process Controls has widened their market coverage by adding personnel for the markets in Tennessee, Michigan, Illinois, Iowa, and West Pennsylvania. Combined, the team now has more than 200 plus years of experience covering a wide range of industries and process applications.  The Lodige product line is a perfect complement to the Process Controls product offerings.
Chopper refurbishment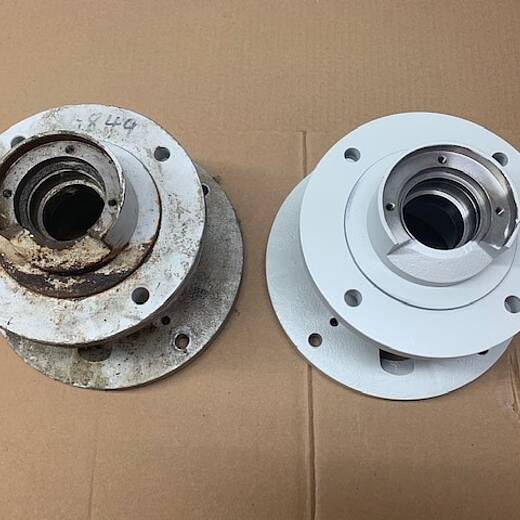 July 2019
Over time and after hours of usage, there comes a time where chopper assemblies, like many other mechanical parts need repair, replacement or refurbishment. To save our customers time and money, we offer chopper refurbishment services for their existing Lödige machines. At our workshop in Kentucky we have begun a chopper assembly refurbishment program for our customers. As you can see from the photo, we take the used housing, remove the chopper shaft assembly and completely clean the housing to its original condition. Once this is performed, we re-install the chopper shaft assembly, blades and all, and return to our customer for direct installation or placed in our customer's stockroom. Besides this program, we continue to economically provide various chopper parts for other plow mixers, especially our past licensee Littleford
POWDERMET 2019
June 2019
It was quite warm outside in Phoenix but it did not affect the activity and interest inside at the Lodige Process Technology booth.  Many thanks to all the attendees who stopped by our booth last week;  it was a pleasure meeting all of you. The exhibition was very successful for us and great to be able to meet with our existing customers and to present Ploughshare® technology to the group.  Mixing applications for metal powders are a great fit for Lödige.  The old, traditional way of mixing with a double cone mixer is inferior; creates segregation and batch inconsistency.  Let us demonstrate the efficiency and effectiveness of Lödige Ploughshare® technology.  Lödige – Always the Right Mix!
Dry mixes of brake and friction materials in Ploughshare® Mixer
Paderborn/Germany, October 2018
Even 70 years after the Ploughshare® Mixer was patented by Lödige, there are still new applications found for the fluid bed principle that was revolutionary at that time. At the SOLIDS 2018 (7 – 8. November 2018 in Dortmund/Germany), Lödige Process Technology (Hall 6/Stand S 05-6) will show a design model of a mixer specifically designed for brake and friction material applications.
Lödige has been supplying mixing systems for the friction material industry over the past 40 years. In order to meet the high safety standards of braking systems in passenger cars and other vehicles, these mixes face very specific requirements: brake and friction material mixes notably consist of a multitude of powdery, finely crystalline and fibrous components having extremely different bulk densities. The mixer has to therefore not only mix these components in a homogeneous manner, but also to disperse the fibrous components to ensure the reinforcement of the finished products. This can only be achieved by high performance mixers designed in a specific way.
Modern aramid fibres – which are an essential component of these mixes – are introduced into the mixer in the form of a so-called pulp. A high fibrillation degree is reached through the mechanical processing of the fibres by means of a special mixing technology. As a result: an optimum embedding of powdery components and a high retention of filler materials in which mix segregation can be excluded.
Specifically designed mixing tools
Lödige mixing systems equipped with specifically designed mixing tools and choppers ensure the required mix homogeneity and the dispersion of fibres. The mixing tools convey the product to the high speed choppers. The star-shaped chopper blades specially designed for fibrous products pull apart the fibres achieving a high dispersion of the fibres. The interaction of mixing tools, choppers and speed is decisive for this operation.
Advantage of the process
In this process, the fibres are opened as reinforcement material into the recipe without being destroyed. The mix is free flowing and ensures an easy filling of pressing tools, thus preventing a difference of density in the preforms. The product circulation inside the Lödige mixing system excludes any compression or formation of so called spots. A homogeneous mix is reached in 6 – 8 minutes without any significant frictional heat which could lead to resin softening. In case of heat sensitive components, the mix can be cooled or heated by using a temperature control jacket. The bulk density of the mix can be regulated by increasing the speed of the choppers and varying the mixing time.
Certificates & approvals
When fulfilling your requirements, we leave nothing to chance!
We are regularly certified by recognized German and international testing centers.